Call Name: Conan
DCNH reg.no.: VDH/DCNH SH 16853/19
Breeder: Iris Kammerer (FCI, DE)
Owner: Markus Enseroth
DOB: 04/09/2019
Coat: gray and white
Eyes: brown/brown
Teeth: full set, scissor bite
COI: 5.78 % (calculated for 5 generations)
Hips: A1 (04/07/2021 by DMV Heinrich Camp, Kleve)
Eyes test: clear of hereditary diseases (03/22/2023 by DMV Birgit Koerschgen, Staufenberg, ECVO/DOK, 01/05/2021 gonioscopy clear)
Parents
Pedigree
Zaltana Heart On Fire Of Savannah Town

May. 22, 2017

Winter Melody Heartbreaker

Sep. 30, 2011

WCC / European Winner, International Champion, Champion of Poland, Luxembourg, Lithuania, Czech

Kristari's Duke of Lancelot

Jun. 12, 2004

Siberian Husky

(#WR04833801)

Winter Melody Double Trouble

Jul. 7, 2008

Aug. 8, 2010

Coventry's Peace Negotiator

Dec. 26, 2002

Siberian Husky

(#WS02480505)

Feb. 26, 2008

Nov. 24, 2016

Siberian Husky

(#VDH/DCNH SH 16150/16)

MBISB

Feb. 6, 2013

DtJCh, MCh, MCW

Jo-Kar's Black Magic Mountain

Apr. 19, 2011

Jo-Kar's Mel For Velnio Malunas

May. 22, 2009

Aug. 31, 2014

Siberian Husky

(#VDH/DCNH SH 15695/14)

JCh(DCNH)

Coe's Spirit Wolf Of Zausel

Nov. 28, 2007

May. 25, 2012

Siberian Husky

(#VDH/DCNH SH 15285/12)
Conan was the baby darling of litter C (Finn x Nukka), a lovely pup who inherited not only his mommie's good looks, but also her gentle and friendly character. He came to Dillenburg to live with Markus Enseroth who indulges in wanderlust. About half a year old they spent their first hiking holidays in South Tyrol. In 2020, during the Covid lockdown, they started bike joring besindes hiking. Conan enjoys very much running on a track.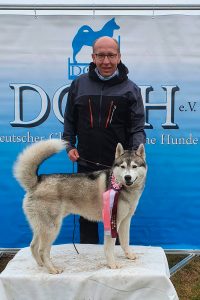 In February 2020, Conan gained his first J-CAC, winning his class, and on his second show he finished his Junior Club Champion (JCh(DCNH)) and went Club Junior Winner 2020. Hence, his owner decided to have him classified for breeding. With an excellent hip score (A1/FCI) and eyes tested free of hereditary diseases, Conen entered the ring to be evaluated end of May 2021 in Dortmund, judged by Angelika Kammerscheid-Lammers. We are very proud of Conan's achievements.
Conan is open for stud for approved females according to the rules and regulations of the FCI.
If you are interested in this stud service, don't hesitate to contact his owner Markus Enseroth via the following contact form: