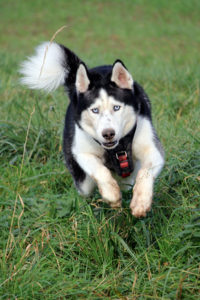 We adopted Sisko in early August 2014 from the local shelter. A few weeks before he was left there, like a child from a broken home.
He was born in a small kennel in Willebaldessen (Lower Saxonia), bred by Ines Müller-Milgramm. Ines is quite successful in long distance trails for pony coaches and breeds Alaskan Huskies along the way. This dog type is not recognized as a standardized breed by any major kennel club. Among other points, it is because the appearance of these dogs varies a lot due to being bred for very different purposes. The main objective of breeding Alaskan Huskies is a very strong desire-to-go together with speed and stamina.
Sisko came to Marburg, when he was a pup, and lived with his family until he was left behind. Yet, he was in very good shape, a good boy without any major quirk (apart from his ego). Apparently, he did not do any pulling sport like dog-scooting, but was trained running beside the bike.
During his stay at the shelter, he was neutered. He cannot sire any more, but he is still interested in girls and know precisely what to do. 😉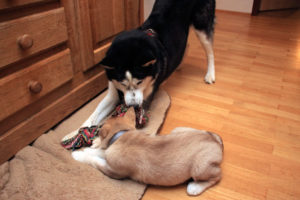 Sisko is a confident and friendly male, not too agile, yet fast with good stamina. When Kira arrived, he instantly adopted her and helped a lot raising and training her, especially when it came to potty training.
With time going be, he proved himself a very good foster dad not only for Kira, but for all the puppies born here and the young dogs we adopted to our kennel. Cpt. Sisko of Dog Space nine knows to enforce his rules. Sassy pups get a Sisko update, if necessary. But actually, he is quite indulging with females.