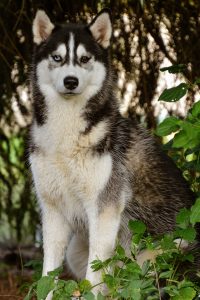 Call name: Snow
Breeder: Iris Kammerer (Of Kahnawake, DCNH/VDH/FCI)
Owner: Anne Herrmann/Helmut & Iris Kammerer (co-owned)
Stud book no.: VDH/DCNH SH 17469/21
DOB: 11/21/2021
Coat: black-white
Eyes: brown/blue
Hip score: A1 – FCI (11/06/2023, Dr.med.vet. Heinrich Camp, Kleve/DE)
Eye test: clear (11/11/2023, Dr.med.vet. Sabine Gordon, Rottach-Egern/DE, ECVO/DOK)
Titles: Alps Junior Winner 2022, Junior Winner Baden-Wurttemberg 2022, 1 x Best Junior, 1 x J-CACIB, 1 x CAC(VDH), 1 x CAC(DCNH)
Sire & Dam
| | |
| --- | --- |
| Dt.Ch. Inner Vision Carbon Monoxide (©2021 K. Donges) | BISSP Zaltana Kissed By An Angel In Kahnawake (©2021 K. Donges) |
Approved for breeding
by breed judge Gabriela Richard-Steinbach on 11/25/2023 in Oberhausen-Rheinhausen.
Proportions According To Report (cm/inch)
| | | | |
| --- | --- | --- | --- |
| Withers | Length | Chest | Bust |
| 56 / 22.0 | 67 / 26.4 | 23 / 9.1 | 69 / 27.2 |
Conformation Report
Friendly bitch, full of spirits, appealing overall appearance.
Moderately strong built, feminine expression, moderately strong bone structure, very well muscled. Feminine head, scissor bite, almond-shaped eyes, dark brown on the left, blue on the right. Ears, correctly set and carried. Neck of medium length, straight and strong back, tail set and carried correctly. Forequarters straight and parallel, and hindquarters slightly turning outwards. Paws very well closed. Swift movement, with good drive. Double coat in black and white, very good pigmentation.
Remarks
Excellent character
Approved for breeding until the age of 8 years (11/29) – no limitations.
Pedigree
Inner Vision Carbon Monoxide

Oct. 26, 2018

Siberian Husky

(#VDH/DCNH SH 16997/19 (MR 50799 SH))

GerCh (VDH)

Oct. 11, 2015

IntCh

Dec. 3, 2009

Oct. 15, 2015

IntCh, MkCh, BISP, JCW, BISSJ

Oct. 6, 2012

Snowmist's Ultimate Inner Vision

Apr. 25, 2011

Zaltana Kissed By An Angel In Kahnawake

Jan. 30, 2018

Siberian Husky

(#PKR.V-26712 (VDH/DCNH SH 16887/19))

BISP

Jan. 24, 2014

Siberian Husky

(#BA545950)

MBIS Am Can CZ Lit Pol Port Ch

Highlander's Diamonds Furever Exclusive

Mar. 22, 2011

Dec. 24, 2011

Siberian Husky

(#YY438966)

Aug. 8, 2010

Coventry's Peace Negotiator

Dec. 26, 2002

Siberian Husky

(#WS02480505)

Feb. 26, 2008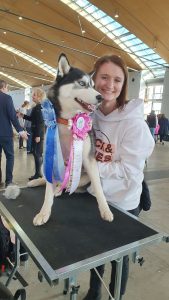 Snow was born November 21st, 2021, sired by Inner Vision Carbon Monoxide "Shakaar" out of Zaltana Kissed by an Angel In Kahnawake "Ezri", a repeated litter. Again we wanted to keep one female in co-ownership, and we chose Gracia, the smallest pup at birth. She grew nicely into a pretty girl, moved to a nice family in South-Germany who call her Snow. They run a small family kennel of Labrador Retrievers named Challey's Doghouse, and so Snow not only keeps her humans busy, but also three labbie girls. We were lucky to find people who are familiar with breeding and experienced in showing dogs.
Snow matured nicely in her furever home and currently is passing the health tests to be approved for breeding. Due to the pandemic, everything took longer than planned. Soon she will be entered in shows again, preferably in South Germany, where she achieved a title as Alps Junior Winner and Baden-Wurttemberg Junior Winner in November 2022.
We are happily looking forward to Snow representing her family and our kennel in shows soon.