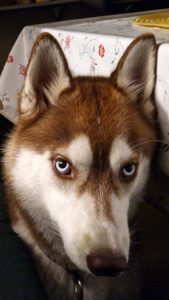 Call name: Leeta
Breeder: Iris Kammerer (Of Kahnawake, FCI)
Studbook Nr.: VDH/DCNH SH 17693/22
DOB: 12/01/2022
Coat: red-white
Eyes: blue/blue
HD: too young
Eye check: Dec.5th 2023 – clear (Dr.med.vet. Nina Müller, Staufenberg/DE, DOK/ECVO)
DNA stored
Parents
| | |
| --- | --- |
| Riverjunction's Apache In Savannah Town (©Desirée Kientz) | BISS MCh Inner Vision Wolfblood (©Carolina Jurgutat) |
Abstammung
Riverjunction's Apache in Savannah Town

Apr. 19, 2019

Jan. 24, 2014

Siberian Husky

(#BA545950)

MBIS Am Can CZ Lit Pol Port Ch

Highlander's Diamonds Furever Exclusive

Mar. 22, 2011

Dec. 24, 2011

Siberian Husky

(#YY438966)

Aug. 2, 2014

Snowmist's Wind N'Reigning

Nov. 24, 2011

Apr. 25, 2011

Sep. 2, 2016

Siberian Husky

(#VDH/DCNH SH 16414/18 (Orig. MR 50743 SH))

BISS MkCh DtCh(VDH)

Silverado Of Inner Vision

Apr. 17, 2014

JWW2015 JBIS BIS BISS MBOG Int CH MK CH

Oct. 6, 2012

Snowmist's Ultimate Inner Vision

Apr. 25, 2011

Apr. 6, 2013

Ch

Mar. 26, 2011

Andromeda Of Inner Vision

Sep. 13, 2008
Click on pedigree to learn about Leeta's full ancestry.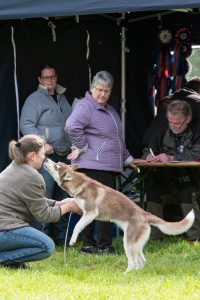 Leeta was the second pup of our litter H, sired by Riverjunction's Apache In Savannah Town "Abahachi" out of Inner Vision Wolfblood "Opra". She grew upo a quite confident, but serene little lady with very good proportions. Hence, in addition to her not so common coloring, we decided to keep her.
Meanwhile, Leeta has started to step in her dam's footprints, turning her first rounds in the show ring. She entered Baby Class at the Lahn Dill Show in April 2023 and was judged very promising by different judges on all three days.
Leeta is a happy girl with a strong drive to work. Yet, she has to learn to pace herself. I am afraid this will be a big task, since she is a clown who loves to photobomb!