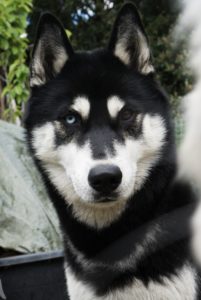 Call Name: Koda
Stud Book No.: VDH/DCNH SH 16443/18
Breeder: Iris Kammerer
Owner: Johanna Schmidt & Tobias Müller
DOB: 17.03.2017
Coat: jet black – white
Eyes: brown/blue
Hips: A1
Eye result: clear apart from ICAA (mildly affected)
COI: 0,00 %
Approved For Breeding
by breed judge Volker Schön (DE) on June 15th 2019 in Dietfurt (Germany).
Size according to protocol:
| | | | |
| --- | --- | --- | --- |
| withers | length | chest | bust |
| 60 cm / 23.6 in | 69 cm / 27.1 in | 26 cm / 10.3 in | 72 cm / 28.3 in |
Conformation Assessment Report (translated by me):
Good-natured dog, reached the limit of height at withers.
Rectangular built, attentive expression, medium bone structure with good muscles.
Rectangular head, scissor bite, eyes brown and blue, slightly rounded, well set ears, curved neck, strong back, sickle-shaped tail. Front and hind well angulated, closed paws, swift movement, typical coat in black and white, strong pigment.
excellent character
Remarks:
reached the limit of height in withers, breeding partner should be of medium height.
Limitations:
Approved for breeding for lifetime, breeding partner must be cleared of ICAA.
Koda is open for stud to approved Siberian Husky females clear of ICAA according to rules and regulations of the FCI.
Parents
| | |
| --- | --- |
| BISS MCh Balance Master Speigas (©Monique van Ree-Hagg) | JCh Zausel's Red Rose (07/13/2017, ©Tanja Backes) |
Pedigree
Mar. 31, 2012

MCh BISS

Snowmist's Quicksilver Speigas

Mar. 20, 2009

Siberian Husky

(#WS31684402)

MBIS MBISS AM/CAN/LAT/ES/LITH

Coventry's Peace Negotiator

Dec. 26, 2002

Siberian Husky

(#WS02480505)

Apr. 19, 1993

Siberian Husky

(#AKC WP487261/03 05-94)

Jul. 29, 1999

Siberian Husky

(#WP92861601)

Feb. 9, 2006

Ebonyshadow's Absolute Snowmist

Jan. 5, 2004

Nov. 18, 2009

EUJW10, MBISJ, BIS, MCh

Huskavarna's As Good As It Gets

Dec. 15, 2004

Blueridge Soma's Stingray

Huskavarna I Hope You Dance

Sep. 24, 2002

Snowmist's Legally Blonde

Jan. 5, 2004

Kimlan's Millenium Moonbeam

Jun. 3, 2000

Jan. 30, 1999

Aug. 31, 2014

Siberian Husky

(#VDH/DCNH SH 15695/14)

JCh(DCNH)

Coe's Spirit Wolf Of Zausel

Nov. 28, 2007

Jul. 12, 2005

Jan. 1, 2004

Kenta-Kanis's Perfect Mold

Coe's Princess Mishka Anastassia

Dec. 15, 2002

Aug. 11, 2000

Nov. 13, 2000

May. 25, 2012

Siberian Husky

(#VDH/DCNH SH 15285/12)

Apr. 20, 2001

Kuuhaukun Ikuinen Rakkaus

Troika's Trailside Dreams

Jul. 28, 2008

Siberian Husky

(#VDH/DCNH SH 14725/08)

Cwiok's Call Me The Grinch

May. 12, 2004

Siberian Husky

(#AKC WS11559001)

Zausel's Voice Like A Fox

May. 29, 2003
Koda was the youngest in our litter B, being a son of the late Salai (Balance Master Speigas) out of our Kira (Zausel's Red Rose). His distinguished features are his spirit and his strong pigment: he is jet black, a color that has become very rare in our breed.
Koda lives an active life in East Northrhine-Westfalia (NRW) in the area of Siegen together with Mato (Clemens of Kahnawake) from our litter C. He is an athletic dog who loves to run, confident, free of aggression, compliant with people and other dogs and very attentive.
Because of his strong color and pigment we urged his owners to have him approved for breeding. During the eye checks he was diagnosed as being mildly affected with ICAA which will not have any effect on his health and eyesight (according to the ECVO).