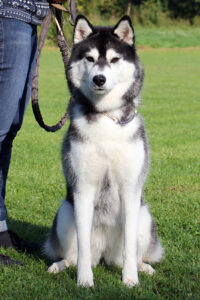 Call name: Ronja
Breeder: Iris Kammerer (Of Kahnawake, DCNH/VDH/FCI)
Owner: Iris Kammerer (co-owned)
Stud book no.: VDH/DCNH SH 17111/20
DOB: 05/28/2020
Coat: black-white
Eyes: brown/brown
Hip score: FCI: A1
Eyes test: clear
CACs: R-JCAC(VDH), R-JCAC(DCNH)
Approved for breeding by breed judge Guido Schäfer (DE) on 08/07/2021 in Wetzlar.
Proportions According To Report (cm/inch)
| | | | |
| --- | --- | --- | --- |
| Withers | Length | Chest | Bust |
| 54 / 21.3 | 61 / 24 | 22 / 8.7 | 64 / 25.2 |
Conformation Report
Keen and friendly bitch, appearing tall, appealing overall appearance, very well groomed when presented.
Rectangular built, feminine expression, delicate bone structure, medium strong muscled. Expressive head, excellently structured, scissor bite, almond-shaped dark brown eyes, small ears, excellently carried. Neck of medium length, straight and strong back, very good croup, tail set medium high, carried as a sickle. Forequarters and hindquarters very well set and angulated. Closed oval paws. Swift movement, parallel in moving up and down. Black and white coat with correct texture and length, strong pigmentation.
Remarks:
Excellent character
Approved for breeding until the age of 8 years (05/28) – no limitations.
Parents
| | |
| --- | --- |
| Sire | Dam |
| Inner Vision Carbon Monoxide – "Shakaar" | MBISP Zaltana Kissed By An Angel In Kahnawake – "Ezri" |
Inner Vision Carbon Monoxide

Oct. 26, 2018

Siberian Husky

(#VDH/DCNH SH 16997/19 (MR 50799 SH))

GerCh (VDH)

Oct. 11, 2015

IntCh

Dec. 3, 2009

Oct. 15, 2015

IntCh, MkCh, BISP, JCW, BISSJ

Oct. 6, 2012

Snowmist's Ultimate Inner Vision

Apr. 25, 2011

Zaltana Kissed By An Angel In Kahnawake

Jan. 30, 2018

Siberian Husky

(#PKR.V-26712 (VDH/DCNH SH 16887/19))

BISP

Jan. 24, 2014

Siberian Husky

(#BA545950)

MBIS Am Can CZ Lit Pol Port Ch

Highlander's Diamonds Furever Exclusive

Mar. 22, 2011

Dec. 24, 2011

Siberian Husky

(#YY438966)

Aug. 8, 2010

Coventry's Peace Negotiator

Dec. 26, 2002

Siberian Husky

(#WS02480505)

Feb. 26, 2008
Ronja is the last-born of our litter E, born end of May 2020. She was the darkest and the smallest pup and at the same time the most lively, almost a copy of her sire Shakaar with the gentle eyes of her dam Ezri.
Our little sly dog moved into the home of a couple that share a deep love for Swedish Lapland and grew into a bright and sporty Siberian Husky girl. Brought up consistently, she is focussed on her humans and obedient even off-leash.
On August 7th 2021, after the necessary health checks of eyes and hips, Ronja was approved for breeding – although she was very excited, she achieved excellent results. he next day she travelled to Sweden with her family where she matured very well during their two months hiking holiday.
At the 20th Lahn Dill Show, on the last weekend in September 2021, she entered the ring for the first time, still a little bit impetuous, yet confident and happy, and she gained exellent results, ranked 3rd on Saturday and 2nd on Sunday, including a R-JCAC for both, DCNH and VDH.
We are looking forward to showing her again very soon and we are very thankful that her family entrusts her to us.
Ausstellungserfolge
| | | | |
| --- | --- | --- | --- |
| 20th Lahn Dill Show 2021, Day 1, Wetzlar-Dutenhofen, 09/25/2021 | Angelika Kammerscheid-Lammers (DE) | Junior Class Exc3 | Results |
| 20th Lahn Dill Show 2021, Day 2, Wetzlar-Dutenhofen, 09/26/2021 | Jan Meijerinck (DE) | Junior Class Exc2, R-CAC-J(VDH), R-CAC_J(DCNH) | Resuts |
| International Dog Show Kassel 2021, 12/05/2021 | Regina Blessing (DE) | Intermediate Class Exc2, R-CAC(VDH) | Results |
| 21th Lahn DillShoowu, Wetzlar-Dutenhofen, 04/23/2022 | Gabriela Richard-Steinbach | Intermediate Class Exc3 | |
| 21th Lahn Dill Show, Wetzlar-Dutenhofen, 04724/2022 | Henning Schenk | Intermediate Class Exc3 | |