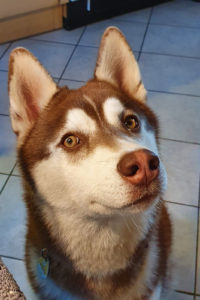 Call Name: Maya
Stud book no.: VDH/DCNH SH 16854/19
Breeder: Iris Kammerer
Co-Owner: Katharina Dippel
DOB: 2019/04/09
Coat: copper-white
Eyes: amber/amber
Teeth: full set, scissor bite
Hips: A1 (06/13/2020, DMV Heinrich Camp, Kleve)
Eyes test: juvenile cataract pol.post. left (07/06/2020 by DMV Nina Müller, Pohlheim)
COI: 1.56% / AVK: 97,00 %
Pedigree
Zaltana Heart On Fire Of Savannah Town

May. 22, 2017

Winter Melody Heartbreaker

Sep. 30, 2011

WCC / European Winner, International Champion, Champion of Poland, Luxembourg, Lithuania, Czech

Kristari's Duke of Lancelot

Jun. 12, 2004

Siberian Husky

(#WR04833801)

Winter Melody Double Trouble

Jul. 7, 2008

Aug. 8, 2010

Coventry's Peace Negotiator

Dec. 26, 2002

Siberian Husky

(#WS02480505)

Feb. 26, 2008

Nov. 24, 2016

Siberian Husky

(#VDH/DCNH SH 16150/16)

MBISB

Feb. 6, 2013

DtJCh, MCh, MCW

Jo-Kar's Black Magic Mountain

Apr. 19, 2011

Jo-Kar's Mel For Velnio Malunas

May. 22, 2009

Aug. 31, 2014

Siberian Husky

(#VDH/DCNH SH 15695/14)

JCh(DCNH)

Coe's Spirit Wolf Of Zausel

Nov. 28, 2007

May. 25, 2012

Siberian Husky

(#VDH/DCNH SH 15285/12)
From the day Maya opened her eyes (being the first among her littermates) I knew she is very special! Not just because of her sprkling copper red coat, but particularly because of her character. Maya is bubbling with confidence, not to say sassiness, and at the same time she is stunningly amiable and charming. In a nutshell, she is a real girl full of spirits. Her movement is – apart from a slight imbalance due to her youth – swift and effortless with strong impulse from the hinds. Her escapades could fill a blog, if she left her family enough time to write one!
Maya comes from our litter C, her dam Nukka (Almundis of Kahnawake) being the girl from our litter A. Her sire Finn (Zaltana Heart On Fire Of Savannah Town) is our Ezri's (Zaltana Kissed By An Angel In Kahnawake) half-brother.
We already have shown Maya in puppy class at several shows: at the Europe Winner Show and the Fall Winner Show in Dortmund in October 2019 and at the National and International Dog Show in Kassel in December 2019. All judges rated her "very promising". She missed junior class due to the corona pandemic, but we were thrilled to see with what she would come up in open class.
Yet, Maya was diagnosed with juvenile cataract at her first eyes check. Although this was a hard strike against our breeding plans, we are glad it was diagnosed before she possibly handed it down to a litter, because according to the rules of our club, the DCNH, we will not breed her.
Show Results
| | | | |
| --- | --- | --- | --- |
| VDH Bundessiegerschau (Federal Winner Show) Dortmund, 2019/10/12 | Gopi Krishnan (MY) | puppy class: very promising (VV) | Results |
| VDH Herbstsiegerschau (Fall Winner Show) Dortmund, 2019/10/13 | Lois Wilson (ZA) | puppy class: very promising (VV) | Results |
| National Dog Show (NDS/NRA) Kassel, 2019/12/07 | Grzegorz Weron (PL) | puppy class: very promising (VV) | Results |
| International Dog Show (IDS/CACIB/IRA) Kassel 2019/12/08 | Ursula Meyer (DE) | puppy class: very promising (VV) | Results |