Apart from carefully choosing sire and dam for a litter and taking care of the dam during pregnancy, birth and lactation, raising puppies is an extensive job. When you adopt a puppy from a responsible breeder, of course you so not expect something like a lucky bag. Instead you hope for a young pet that conforms to its breed standard. Also, the puppie should have been well brought up during the first months of its life and gotten used to lots of things, noises, views, activities etc., it might be confronted living in a family.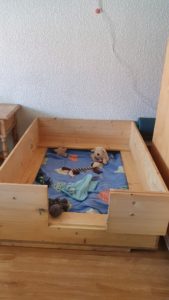 Our puppies are born in a whelping room upstairs where our bedroom is. There they spend the first three or four weeks of their life together with their mom. They are under constant surveillance, thanks to babyphone technology, and their mom can spend time outside of the whelping box, while still keeping an eye on her little ones, and make herself noticed, whenever she wants to go out like for pee and poo and walkies as well.
We have two whelping boxes, quite similar samples. The room is bright and cozy (apart from housing the litters it is our guest room) and comfortably furnished. This is important, because during the first weeks, one of us sleeps in the whelping room, so the mom feels safe and confident.
As soon as the pups start to climb out of the box, it is time for them to move downstairs into the puppies' room in the ground floor. For some time, they spend their days downstairs and in the night sleep upstairs, and whenever the weather is appropriate, they already have some playtime in the puppy pen out in the garden.
In the puppis room there is a crate, a cozy place to sleep, and a variety of toys. A small table on one side an a chair outside helps mom to enter or leave the fenced area, where the pups play. After at least four weeks the dam enjoys to have some time for herself, to doze on the sofa and still watch over her babies. And yes, she also can leave the room, if she wants to. Here, too, babyphone technology helps to support the dam.
Keeping the place clean is the most important task, since the little ones are supposed to get used to keeping themselves and their nest clean. All blankets, covers and sheets are changed at least daily and washed soundly and the floor has to be mopped, whenever needed. If you think about raising a litter, rest assured that you will have to deal with tons of puppy pee and puppy poo, and that is not really cute. 😉
In the garden, the puppies are kept in a mobile pen that can be enlarged as required. Here, too, they find a crate, tubes and pop up bags, tubs for sand, water and a ball pool, some sun shade, and a little doghouse.
The puppies spend most of the day safely in the pen, as long as there is no rain. Mom is around most of the time, but gets plenty of opportunity to retreat and rest and watch from a distance.
During winter the puppy pen is on the covered terrace and in the ajoining part of the garden, so that the little ones are sheltered, but still outside.
Now they get to know their dad and the rest of our pack and some dogs of past litters that occasionally visit us. And when the puppies leave for their furever families, the lawn needs a good rest and special treatment to recover from the little paws. 😀
This is also the time when the puppies are taken for their first little walkies. They get to know collar, harness and leash, learn their first tricks, visit the neighbors' chicken and meet other people and dogs and maybe a rumbling tractor too.
During the last weeks before they leave for their furever families, we spend time with the puppies in the dog yard, so they can improve their social skills and play and burrow as much as they want to.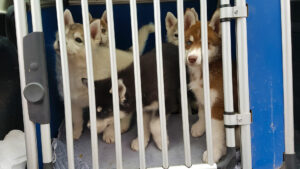 When the puppies are eight weeks old, we take them to our vet clinic where they are thoroughly checked, get their transponder chips and their first shot of vaccines against leptospirosis, parvovirosis, hepatitis, Canine distemper and Canine parainfluenza. And they are each provided with a blue EU pet passport. Until then the puppies have been dewormed at least twice, and another time two days after vaccination. And we have the dam thoroughly checked as well.
After vaccination the litter has to be inspected by the breed ward of our club. The dam and the puppies are examined, the kennel visited and documents and records are looked up. Not before everything is checked clear, the puppies may leave for their furever families.
And we will miss them like we miss all the pups we ever gave away, and we are always happy to meet them again.