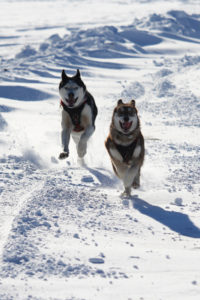 Siberian Huskies of Kahnawake is a small family-based kennel. We are breeding Siberian Huskies according to the breeding rules and regulations of the DCNH (Deutscher Club für Nordische Hunde / German Club for Nordic Dogs). Our kennel name of Kahnawake is registered and protected by the FCI.
We are attending workshops and trainings carried out by the VDH (Verband für das Deutsche Hundewesen) as well by breeding clubs and regional associations associated with it.
Our dogs are looked after and taken care of by vets and vet spacialists. They are vaccinated and dewormed and protected against vermins on a regular base.
We engage in dog-scooting and bike-joring, according to our dogs' breed, and keep them active in our own garden, a dog yard of several 100 square meters and in the surrounding area. Furthermore we are cooperating with well-respected dog trainers.
We make a point of getting to know the future owner of our pups in person. Thus, we can help them with words and deeds, for as long as the dogs live and more.