Stud book nr.: VDH/DCNH SH 16887/19 (orig. PKR.V-26712)
DOB: 01/30/2018
Color: black/white
Eyes: brown/brown
Hips: A
Eyes: clear
Approved for breeding on 04/27/2019 in Wetzlar-Dutenhofen by
Ursula Meyer
.
Measurements (acc. to protocol, cm/inches):

| | | | |
| --- | --- | --- | --- |
| withers | length | chest | bust |
| 53.5 cm / 21.1 in | 65.5 cm / 25.8 in | 22 cm / 8.7 in | 65 cm / 25.6 in |

Conformations assessment report (translation by me):

(following soon)

Remarks: excellent character

Terms: Approved for breeding until the age of 8 years (02/26), no further requirements
---
Ezri entered our kennel on June 5th 2018 and she is raising hope for the future in us. Her sire, Snowmist's Bodacious (Bo), is currently living in Europe, where he adds some chanmpionships and titles to his Canadian and US championships. Her dam, Daviks Silver Mist (Misty), is multi-champion, too, in Canada, where she also was working in harness, as well as in East Europe. Misty lives with Mary Louise Franklyn and Grzegorz Boguta in their kennel Zaltana in Poland.
Ezri is a cheerful husky girl with lively spirits and joie de vivre, lovely and always a bit of mischief. Build and movement are amazing. Summer 2018 we started presenting her in the ring. Since she entered Puppy class, she is quite dominating the ring. In the Club Jubilee Show, celebrating the 50th anniversary of the DCNH, Ezri not only won her class and so became Best of Breed Puppy, but ended up as Best In Specialty Show Puppy under breeder judge Henrik Soeborg (DK).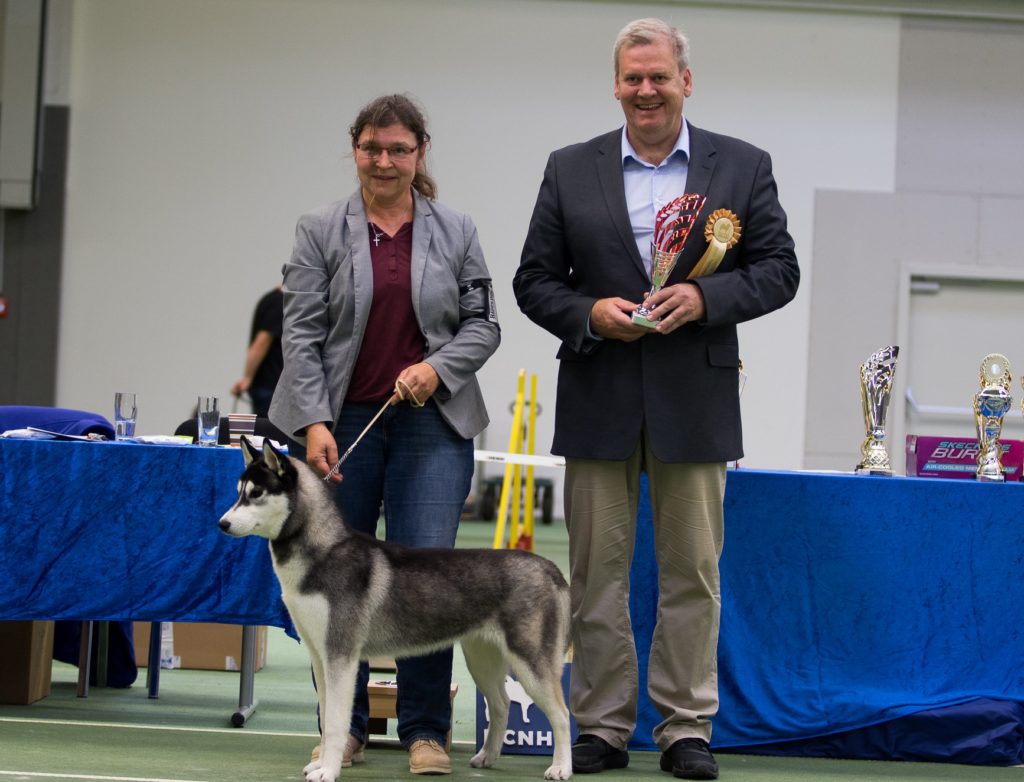 The next day, during the 1st Kirchheim Cup, Ezri again won her class and so became Best of Breed Puppy, and ended up in 2nd place Best In Specialty Show Puppy under judge Christen Lang (NO)
We are really looking forward to showing her in the big shows!
Thank you, Louise and Greg, for entrusting us with this wonderful girl! It is such a pleasure to watch her settling in an enjoying her time with new friends.
Offspring
Show Results
| | | | |
| --- | --- | --- | --- |
| Joint Exhibition of VDH Bavarian chapter in Munich, 06/23/2018 | Niko Vazakas (GR) | Baby Class VPr2 | Results |
| CACIB Gießen, 08/04/2018 | Gabriela Richard (DE) | Puppy Class VPr1 | Results |
| Jubilee Show "50 Years DCNH" in Kirchheim/Hessen, 09/15/2018 | Henrik Søeborg (DK) | Puppy Class VPr1, BISSP | Results |
| 1st Kirchheim Cup, 09/16/2018 | Christen Lang (NO) | Puppy Class VPr1, BISS2P | Results |
| National Dog Show Karlsruhe 11/10/2018 | Marie-Josee Melchior (LUX) | Junior Class Exc3 | Results |
| International Dog Show Karlsruhe 11/11/2018 | Olga Dolejšová (CZ) | Junior Class Exc3 | Results |