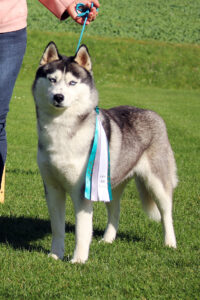 Call name: Opra
Breeder: Stefan Mitrevski & Anastasia Zolotukhina, Inner Vision Kennel (FCI, MK)
Stud book no.: VDH/DCNH SH 16414/18 (orig. MR 50743 SH)
DOB: 2016/09/02
Coat: black-white
Eyes: blue/blue
Hip score: B (FCI, DMV Denis Novak, Belgrad, GRSK e.V.)
Eyes test: mildly affected by ICAA (equates PLA/PLD1), tonometry normal (13/14 mmHg), else clear (01/04/2022, DMV Nina Müller – DOK/ECVO -, Staufenberg, Germany)
Titles: GerCh(VDH), Champion of Macedonia
1 x BIS2 Puppy, 5 R-CACIB, 10 CAC(VDH), 11 R-CAC(VDH), 2 CAC(MK), 2 CAC(DCNH), 3 R-CAC(DCNH), BOB (09/27/2020, 19th Lahn-Dill-Schau), BISS (09/27/2020, 19th Lahn-Dill-Schau – VDH Hessensieger/Hessen Winner 2020)
Approved for breeding
on 04/28/2018 in Wetzlar-Dutenhofen by Angelika Kammerscheid-Lammers.
Measurements (acc. to protocol, cm/inches):
| | | | |
| --- | --- | --- | --- |
| withers | length | chest | bust |
| 51.5 cm / 20.3 in | 62.5 cm / 24.4 in | 22.5 cm / 8.9 in | 64 cm / 25.2 in |
Conformations assessment report (translation by me):
Well-tempered and freely moving bitch, very good shape and stamina.
Rectangular build, expression feminine and typical. Moderate bone structure with very good muscling. Pleasing head with well-defined stop, scissor bite (P4 lower jaw right missing), blue eyes, ears excellently set and clarried. Neck of very good length and slightly bowed. Back straight and strong with tail correctly set and carried. Forelegs straight and parallel. Hind legs strong, set correctly, correct angulations. Closed paws. Fleet-footed movement with good impulse. Typical coat in grey, excellent pigment.
Remarks:
excellent character
Approved for breeding until the age of 8 years (09/24) – stud must be cleared of ICAA.
Pedigree
Silverado Of Inner Vision

Oct. 6, 2012

IntCh, MkCh, SrCh, MBOG

Snowmist's Quicksilver Speigas

Mar. 20, 2009

Siberian Husky

(#WS31684402)

Apache Sun Of Siberian Lady

Jan. 23, 2008

Snowmist's Ultimate Inner Vision

Apr. 25, 2011

MJCh, MCH, IntCh

Coventry's Peace Negotiator

Dec. 26, 2002

Siberian Husky

(#WS02480505)

Snowmist's Legally Blonde

Jan. 5, 2004

Apr. 6, 2013

Ch

Mar. 26, 2011

Int.Ch. BISS, BIS

Jun. 10, 2008

Apache Sun Of Siberian Lady

Jan. 23, 2008

Andromeda Of Inner Vision

Sep. 13, 2008

Int.Ch.

Oct. 17, 2007

Siberian Husky

(#JR 80762)

Key To My Heart Of Golden Nicol

Mar. 17, 2006
On April 13th 2018 Inner Vision Wolfblood, called Opra, entered our kennel. She comes from the kennel Inner Vision, run by Stefan Mitrevski and Anastasia Zolothukina in Skopje, Macedonia. Opra is a beautiful, intelligent and rather small girl, full of spirits, with a desire to go and strong hinds. After a while she made her place in the pack being the kind heart who wants everybody, humans and dogs, to be happy.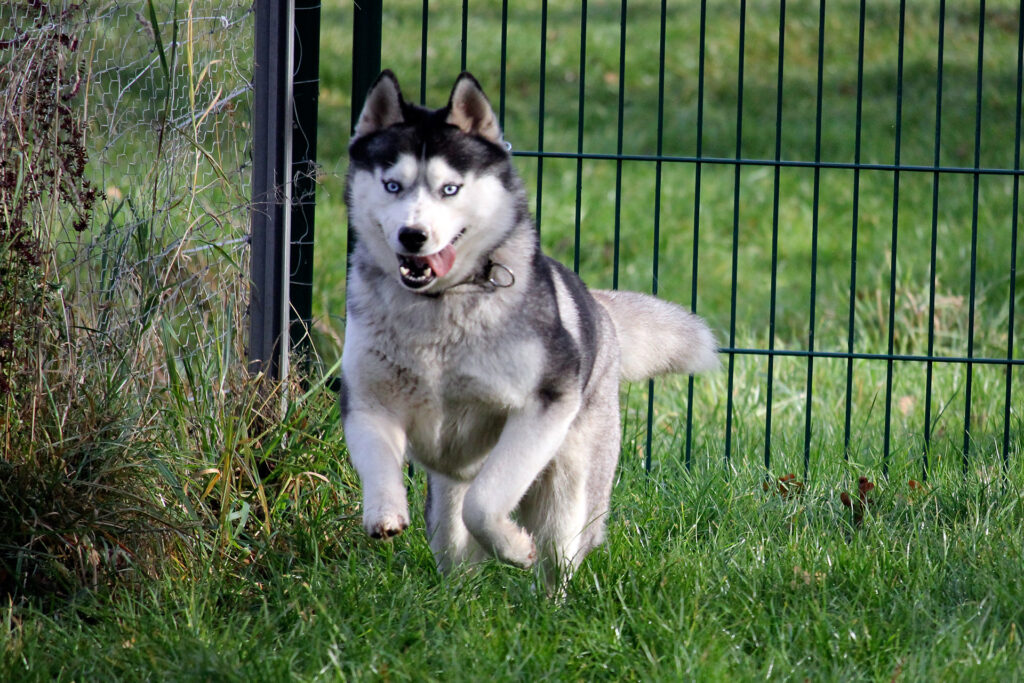 Even before she lived with us, Opra successfully had entered the show ring (f.e. MK Ch, exc.3 Junior class fem. at the World Club Show and final cut Junior class fem. at the World Dog Show, both 2017 in Leipzig). Summer 2018 we started showing her in Germany with excellent results. In September 2020 she strutted her stuff at the 19. Lahn-Dill-Schau in Wetzlar-Dutenhofen and became Best Of Breed and finally Best In Specialty Show, being awarded the Titel VDH Hessensieger (VDH Hessen Winner).
On December 30th 2020, Opra gave birth to our litter F, 3 beautiful little girls, sired by Tio (Benedictus Of Kahnawake), a son of Balance Master Speigas out of our foundation bitch JCh Zausel's Red Rose. Her daughter Felicity Of Kahnawake, called Feli, is one of our upcoming hopes.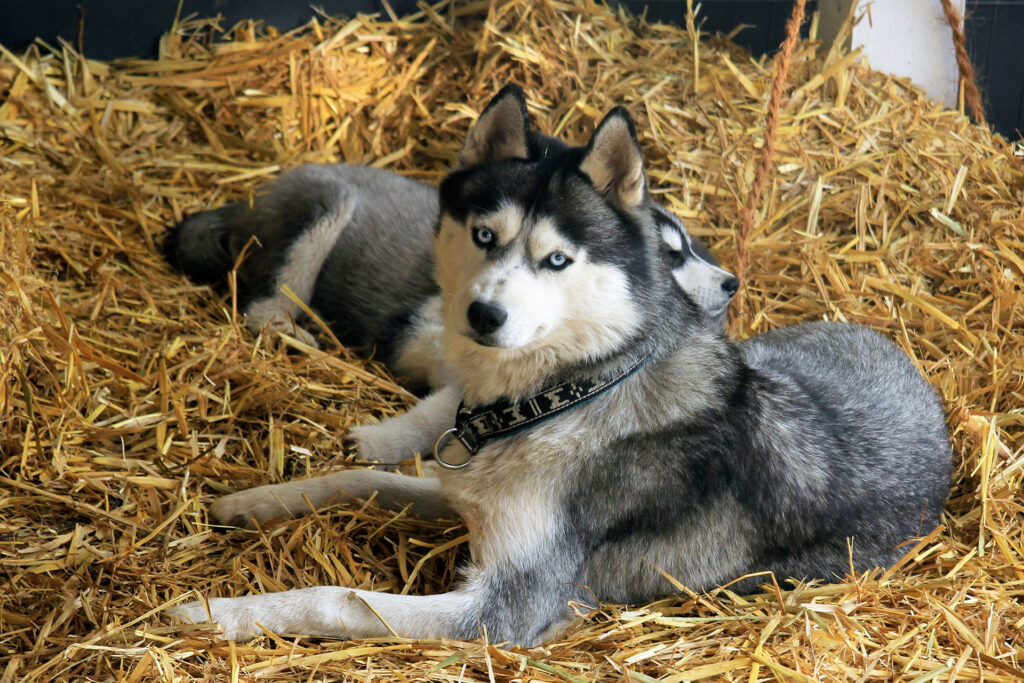 Thank you, Stefan and Anastasia for entrusting us with this beautiful, happy girl who matured into a lovely lady who enjoys both, sports and shows!
BIS Ch Inner Vision Wolfblood aka Opra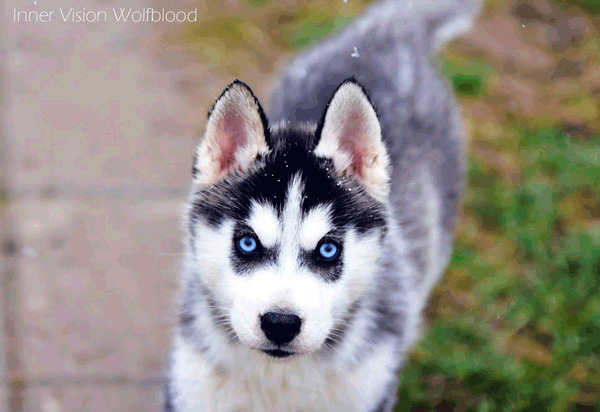 Show Results
CACIB Skopje, 02/11/2017
Puppy Class VP1, BIS2 Puppy
World Club Show Leipzig, 11/08/2017
Laurent Heinesche (LU)
Junior Class Exc3
Results
World Dog Show Leipzig, 11/10/2017
Pierluigi Buratti (IT)
Junior Class Exc (final cut)
Results
CACIB Skopje 2017 (Winter Dog Show day 1, 12/09/2017
Krasimir Todorov (BG)
Intermediate Class Exc1, CAC, R-CACIB
CACIB Skopje 2017 (Winter Dog Show day 2, 12/10/2017
Intermediate Class Exc1, CAC, R-CACIB
Joint Exhibition of VDH Bavarian chapter in Munich, 06/23/2018
Niko Vazakas (GR)
Open Class Exc3
Results
International Dog Show Ludwigshafen, 07/07/2018
Elmar Sistermann (DE)
Open Class Exc3
Results
CACIB Gießen, 08/04/2018
Gabriela Richard (DE)
Interm. Class Exc1, CAC(VDH)
Results
Jubilee Show "50 Years DCNH" in Kirchheim/Hessen, 09/15/2018
Henrik Søeborg (DK)
Open Class Exc3
Results
1st Kirchheim Cup, 09/16/2018
Christen Lang (NO)
Open Class Exc2, R-CAC(VDH)
Results
National Dog Show Karlsruhe 11/10/2018
Marie-Jose Melchior (LUX)
Champion Class Exc2, R-CAC(VDH)
Results
International Dog Show Karlsruhe 11/11/2018
Olga Dolejšová (CZ)
Champion Class Exc3
Results
National Dog Show (NRA) Kassel, 12/08/2018
Gerda Kastl (DE)
Champion Class Exc2, R-CAC(VDH)
Results
International Dog Show (IRA) Kassel, 12/09/2018
Klaus Strack (DE)
Champion Class Exc3
Results
18th Lahn-Dill Show (DCNH), Wetzlar-Dutenhofen, 04/27/2020
Jochen Eberhardt (DE)
Open Class VG4
Results
Club Winner Show (DCNH), Wetzlar-Dutenhofen, 04/28/2020
Guido Schäfer (DE)
Open Class VG3
Results
International Dog Show (IRA) Ludwigshafen, 08/10/2019
Gabriela Richard (DE)
Open Class Exc2, R-CAC(VDH)
Results
VDH Bundessiegerschau Dortmund (Federal Winner), 10/12/2019
Gopi Krishnan (MY)
Open Class Exc4
Results
VDH Herbstsiegerschau Dortmund (Fall Winner), 10/13/2019
Lois Wilson (ZA)
Open Class Exc1, R-CACIB, CAC(VDH), R-CAC
Results
National Dog Show (NRA) Kassel,12/07/2020
Gregorz Weron (PL)
Open Class Exc.1, CAC(VDH), R-CAC
Results
International Dog Show (IRA) Kassel, 12/08/2018
Ursula Meyer (DE)
Open Class Exc4
Results
Club Show 2020, Wetzlar-Dutenhofen (Club Winner) 09/26/2020
Regina Blessing (DE)
Open Class, Exc3
Results
19th Lahn Dill Show, Wetzlar-Dutenhofen (Hessen Winner), 09/27/2020
Lothar Mende (DE)
Open Class, Exc.1, CAC(VDH), CAC,

BOB

,

BISS

,

Hessen Winner 2020

Results
CACIB Ludwigshafen 2021, 08/14/2021
Noel Baaser (DE)
Champion Class Ex2, R-CAC(VDH)
Results
20th Lahn Dill Show, Wetzlar-Dutenhofen (Lahn Dill Winner), 09/25/2021
Angelika Kammerscheid-Lammers (DE)
Champion Class Exc1, CAC(VDH)
Results
20th Lahn Dill Show, Wetzlar-Dutenhofen (Hessen Winner), 09/25/2021
Jan Meijerinck (DE)
Champion Class Exc1, CAC(VDH), CAC
Results
76th International Dog Show Karlsruhe, 11/13/2021
Ursula Meyer (DE)
Champion Class Exc2, R-CAC(VDH),
Results
77th International Dog Show Karlsruhe, 11/14/2021
Angelika Kammerscheid-Lammers (DE)
Champion Class Exc1, R-CACIB, CAC(VDH), R-CAC
Results
International Dog Show Kassel 2021 Day 1, 12/04/2021
Peter Machetanz (DE)
Champion Class Exc2, R-CAC(VDH)
Ergebnisse
International Dog Show Kassel 2021 Day 2, 12/05/2021
Regina Blessing (DE)
Champion Class Exc2, R-CAC(VDH)
Ergebnisse
21st Lahn Dill Show, Wetzlar-Dutenhofen (Lahn Dill Winner), 04/23/2021
Gabriela Richard-Steinbach (DE)
Champion Class Exc1, CAC(VDH)
Results
21st Lahn Dill Show, Wetzlar-Dutenhofen (Hessen Winner), 04/24/2021
Henning Schenk (DE)
Champion Class Exc1, CAC(VDH)
Results
International Dog Show Offenburg (Ortenau Show), 07/16/2022
Beatrix Märki-Casanova (CH)
Champion Class Exc1, CAC(VDH), R-CACIB
International Dog Show Ludwigshafen 2022, 08/27/2022
Gabriela Richard (DE)
Champion Class Exc1, CAC(VDH)
Offspring
Frideswith Of Kahnawake aka Talvi
Frances Of Kahnawake aka Phoebe or Phoebe Frances Grace
Litter H (12/01/2022), sired by GerCh Riverjunction's Apache In Savannah Town
Heloise Of Kahnawke
Hermione Of Kahnawake aka Leeta
Hedwig Of Kahnawake
Harold Bluetooth Of Kahnawake
Hyacinth Of Kahnawake aka Halo