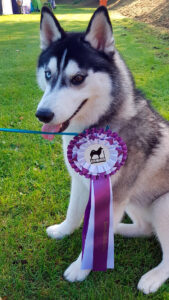 Call name: Feli (Felee)
Breeder: Iris Kammerer (Of Kahnawake, DCNH/VDH/FCI)
Owner: Iris Kammerer (co-owned), Katharina und Stephan Donges
Stud book no.: VDH/DCNH SH 17229/20
DOB: 12/30/2020
Coat: black-white, tanpoint domino
Eyes: marbled/blue
Hip score: A1 (FCI, 02/10/2022, DMV Heinrich Camp, Kleve)
Eyes test: eyes clear, no hereditary diseases (01/13/2022, DMV Birgit Koerschgen DOK/ECVO, Staufenberg)
Achievements, Titles, CACs: 2 x BOB-P, 1 x BOB-J, Alpen-Jugendsieger 2020, Jugendsieger Baden-Württemberg 2020, 1 x CAC-J(VDH), 1 x R-CAC-J(VDH), 1 x CAC-J, 1 x R-CAC-J, 2 x R-CAC(VDH)
Approved for breeding
on 12/11/2022 in Kassel by Klaus Strack (DE).
Measurements (acc. to protocol, cm/inches):
| | | | |
| --- | --- | --- | --- |
| withers | length | chest | bust |
| 52 cm / 20.5 in | 58 cm / 22.8 in | 20 cm / 7.9 in | 62 cm / 24.4 in |
Conformations assessment report (translation by me):
Amiable, confident, even-tempered bitch showing an excellent overall appearance.
Correct rectangular build, excellent in type and expression, moderate bone substance, moderately muscled. Feminine head with a very beautiful expression; scissor bite (both mandibular P1 missing); almond shaped eyes (parti/blue); moderately large ears, set high on head and carried correctly; moderately long neck, well arched; straight and strong topline; moderately high set tail, carried correctly; parallel set and very well angulated hinds and front; oval paws, well closed, swiftly moving; double coat in black and white, dark pigment.
Remarks:
excellent character
Approved for breeding until the age of 8 years (09/24) – no limitations.
Mar. 17, 2018

Siberian Husky

(#VDH/DCNH SH 16440/18)

Mar. 31, 2012

MCh BISS

Snowmist's Quicksilver Speigas

Mar. 20, 2009

Siberian Husky

(#WS31684402)

Nov. 18, 2009

Aug. 31, 2014

Siberian Husky

(#VDH/DCNH SH 15695/14)

JCh(DCNH)

Coe's Spirit Wolf Of Zausel

Nov. 28, 2007

May. 25, 2012

Siberian Husky

(#VDH/DCNH SH 15285/12)

Sep. 2, 2016

Siberian Husky

(#VDH/DCNH SH 16414/18 (Orig. MR 50743 SH))

BISS MkCh DtCh(VDH)

Silverado Of Inner Vision

Oct. 6, 2012

Snowmist's Ultimate Inner Vision

Apr. 25, 2011

Apr. 6, 2013

Ch

Mar. 26, 2011

Andromeda Of Inner Vision

Sep. 13, 2008
Feli is one of the Three Graces from Litter F (Tio x Opra). She alsways was a lively, happy puppy and was adopted by our daughter's family in Marburg.
There she took all the time she needed to grow up, visited two shows just for fun, before she started her carreer as a showgirl at the 20th Lahn Dill Show on the last weekend of September 2021 in Dutenhofen, a municipal district of Wetzlar.
Even though she was the only one entered in puppy class and so went BOB Puppy unchallenged on both days, she gained enthusiastic reports from both judges. And happy little Feli had a lot of fun, too.
At her first "serious" entry at the double CACIB in Karlsruhe (November 2021) she went 2nd in a strong Junior Class between two far more experienced show pups on the first day, and the next day she rocked the ring, going BOB Junior, and earned two titles, Alpen-Jugendsieger (Alpine Junior Winner) and Jugendsieger Baden-Württemberg (Junior Winner Baden-Wuerttemberg).
We are happy and proud as can be.
We are looking forward to showing her frequently in the future, and we are very thankful about her owners' trust in us.
Show Results
20th Lahn-Dill-Schau 2021, 1st day, Wetzlar-Dutenhofen, 09/25/2021
Angelika Kammerscheid-Lammers (DE)
Puppy Class VP1, BOB-P
Results
20th Lahn-Dill-Schau 2021, 2nd day, Wetzlar-Dutenhofen, 09/26/2021
Jan Meijerinck (DE)
Puppy Class VP1, BOB-P
Results
76th International Dog Show 2021, Karlsruhe, 11/13/2021
Ursula Meyer (DE)
Junior Class Exc2, R-CAC-J(VDH), R-CAC-J
Ergebnisse
77th International Dog Show 2021, Karlsruhe, 11/14/2021
Angelika Kammerscheid-Lammers (DE)
Junior Class Exc1, CAC-J(VDH), CAC-J,

BOB-J

, Alpen-Jugendsieger, Jugendsieger Baden-Württemberg
Ergebnisse
International Dog Show Kassel 2021, 12/04/2021
Peter Machetanz (DE)
Junior Class VG3
Ergebnisse
International Dog Show Kassel 2021, 12/05/2021
Regina Blessing (DE)
Junior Class Exc3
Ergebnisse
21st Lahn Dill Show, day 1, 04/23/2021
Gabriela Richard-Steinbach (DE)
Junior Class Exc4
21st Lahn Dill Show, day 2, 04/24/2021
Henning Schenk (DE)
Junior Class Exc3
78th IDS Karlsruhe, 11/12/2022
Kristiina Vanickova (CZ)
Intermediate Class Exc2, R-CAC(VDH)
79th IDS Karlsruhe, 11/13/2022
Leos Jancik (CZ)
Intermediate Class Exc2, R-CAC(VDH)