Back from the 19th Lahn-Dill-Show 2020 (a specialty show of the regional chapter of the DCNH club in Germany) I still can't believe it: Opra won her first BOB and then gained a BISS together with the titles of Lahn-Dill-Sieger (Lahn Dill Winner) and Hessensieger (Hessen Winner)!
We are over the moon and we are happy about the ribbons and especially about the huge cup that will stay in our kennel until next year.
Club Winner Show
On Saturday the annual Club Winner Show was hosted by our regional chapter, perfectly organized despite of all pandemic regulations.
Conan (C. of Kahnawake, Finn x Nukka) became Club Junior Winner, handled by his proud owner Markus.
Shakaar went second with Very Good after a very impressive male (Riverjunction's Apache In Savannah Town, Bo x Katniss) due to his late teenage skinniness.
Yepa (Donata of Kahnawake, Shakaar x Kira) gained a Very Promising in Puppy Class, handled by her owner Cheyenne.
Thank you to judge Regina Blessing (DE)!
Opra went third in Open Class with Exc.3.
Lahn-Dill-Schau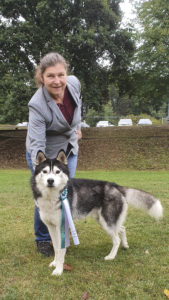 The next day I had entered Shakaar and Opra. Shakaar went second again after the same dog, this time judged excellent (Exc.2)
Opra outdid herself presenting. First she won Open Class (Exc.1), gained the CAC and was awarded BOB! I was over the moon and very honored to handle her running for BISS.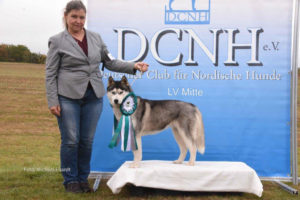 In the ring of honour rivaling with BOBs of 14 other races, she was elected for to run for the winners' rostrum, and in the end she was awarded BISS, Lahn-Dill Winner and Hessen Winner, winning over the beautiful BISS of the previous day. I couldn't be more surprised and proud of our girl!
A big thank you goes to judge Lothar Mende (DE)!